ASHRAYA is a non-profit organization based in the US, established in 1991 with an aim to provide assistance to the physically challenged and rural communities in India in the areas of education, vocational training and income generation. Our focus is on various challenges such as visual, aural, mobility, learning and rural poverty; and on different age groups, i.e. education for children, vocational training for teenagers and income generation for adults. We strive to use assistive technologies wherever feasible so as to increase sustainability and leverage. ASHRAYA is registered in the state of New Jersey and has obtained taxexempt status from IRS. In the initial years, ASHRAYA provided services to select big and established India-based welfare organizations chiefly working in the disabilities sector such as NAB (Bombay), NAB (Chennai), BPA (Ahmedabad), Mobility India (Bangalore) and MP Blind Welfare Association (Indore). Over the last 10 years, our focus has shifted to providing services to smaller and more rural-based organizations.
The following are the services we provide for free
Build and manage libraries in rural government schools focused on activity based learning
Establish and run science clubs and nature clubs in rural government schools
Fund innovative educational programs such as mobile science labs
Establish and fund income generation and vocational training programs for the visually, physically and mentally challenged
Supply educational aids for end users (e.g. educational materials and kits for rural children, braille typewriters, low vision aids, speech enhancement devices)
Supply assistive-technologies and equipment towards the following
Talking Book production centers for the visually challenged (duplicating machines, recording systems)
Centers of education (e.g. PCs, scanners, screen reader and speech recognition software for the visually challenged; mobile science labs for rural schools).
All over this website, you will find copious information about our goals, what we have done to date, what we do now and how you can help us achieve our goals. But now and here, I want to tell you my personal story. A story that started with me (Vasuki) and ended somewhere else. This seems to be life's purpose anyway – to take you on a journey that sheds its destination off half way like a banana peel flung off a bus window.
I grew up with my grandparents who lacked the material perquisites but more than made up with boatloads of love and affection. I grew up idolizing my grandfather whom I affectionately called Anna, a simple and self-effacing old man who had started from very humble beginnings at a poor boys home and left a lasting impact on people around him. While my friends went off to catch a Friday night English movie, I attended discourses on philosophy with Anna and visited his poor boys home where he served as a board member. My entire childhood deep into my teens, I clung onto his dhoti like as if it was my security against losing him; like my daughter clings to her mother now.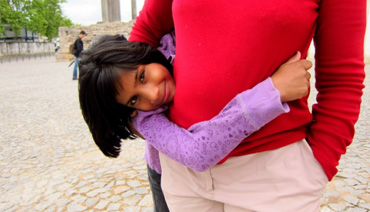 I was Anna's third leg,
Stunted and limpid
Riding on his other two.I was Anna's third leg,
Tracing a circle of shadow
Around his other two.
I was Anna's third leg,
Porting his hunched
Frame and the other two.
I was Anna's third leg
Going down on its knees,
Buckling under the lightness
Of his non-being and frost-
Bitten by the other two.
I was Anna's third leg,
Now learning how to
Walk on its own two.
My Grandpa sent me to America on a students' loan to escape the asthma that had plagued me for years. With my very first paycheck, I got my grandparents over to my home in Princeton, NJ. Over the next many months, I carried them proudly on my shoulders wherever I went, showing them off like mantelpieces in my life's showcase. I took them everywhere from Disneyland to Niagara to Washington DC, looking at America for the first time through Anna's sharp cataract eyes. Every month, I came and proudly handed over my paycheck to him so that he could manage my paltry finances. We both dreamt of the day very soon when I could pay back my loan and go back to India and settle down with them. But that was never to be. I can never forget Thanksgiving Day 1986 when Anna woke up with severe chest pain. The ambulance came and rushed him to the hospital. I sat next to him in the ambulance and promised him that he would pull through and that we would be back in Bangalore in no time. I clasped his hands hard, not willing to let go off the map sketched by his lifelines that was drifting away. Anna had breathed his last by the time we reached the hospital, probably at one of the blinking traffic lights damaged by the previous night's snowstorm. I stood next to Anna all alone, holding his hands gone cold. I talked to him about unfinished journeys. I gave him an update on my bank balance. I had lost all reference – of time, space and states of mind; till the padre came and rudely awakened me from the séance, chiding me for delaying his last rites. When I went to the funeral parlor a few days later to get the death certificate to be shipped along with his ashes to India, I saw the words: "K. Narasimhaiah. Born Aug 11, 1908, Krishnapur, India. Died Nov 28, 1986, Princeton, New Jersey." What a long journey from a small village in Karnataka to Albert Einstein's hometown! What a way to go for this senescent Brahmin who always dreamt of spending his last days in the place of his birth! One handful of his ashes was dropped into the Cauvery River and another handful into the Delaware.
Anna's third leg had come loose and was struggling to stand on its own. In the next few years, I meandered through life like an itinerant who had lost his compass. Anna's death was the end, but with no beginning waiting around the bend to receive the baton. It was the last time in my life I had an idol to live by. Guilt and fear had engulfed me. Guilt of Anna's death in a land so far away; and the fear of spending the rest of my life without him. I donated all my savings to charitable institutions all over India including the students' home Anna grew up in, writing checks out even before salaries were direct-deposited into my bank account. Every time I wrote out a check, I was writing off twice its worth in guilt. I harbored intentions of settling down in Kohima where a human wonder I read about in the local NRI newspaper was taking care of orphaned children. I became a volunteer at the American Red Cross and Recording for the Blind. I went back to the hospital where Anna had died and worked as a volunteer in the emergency room (ER), almost as a catharsis for my fears, consoling victims of gunshot wounds in the same room where I held Anna's cold palms not so long ago.
Over time, what started as a catharsis turned into something meaningful as I realized that I was actually enjoying the experience of volunteering and paying my dues. I decided to guide my confusion with a compass. Of course it helped that I got married to someone who took care of all my needs. They say charity begins at home. I offer a revised version of this adage – Charity begins only if you have a home. You can afford to think about doing something for the world around you only if someone is keeping your own roof aloft and paying all the bills. Like they say, every wind needs a rock to come back to, and every out of the box thought needs a box. In the same token, I could afford to do something for the country I left behind only because my adopted country gave me my health and financial bearings. And so in 1990, a year after I got married to Jayanthi, I started ASHRAYA with the help of some of our like-minded friends.
First some words about the name for our organization – ASHRAYA. As some of you might know, ASHRAYA means 'Shelter' in Sanskrit. When I started the organization, I had a naïve linear and hierarchical view on charity on social work. That the blessed ones could provide shelter and hope to the downtrodden. Even our initial logo reflected my archaic views. Over time, my views on shelter have definitely changed and in 2002, I changed the logo to reflect my changing views adopting a famous photograph from Ansel Adams that shows a barren tree bearing down on a more barren rock like a frail old man blessing a child with his walking stick. In the last few years however, after working very closely with school children through Project Terra Firma, my view on shelter has changed again – it is neither simplistic nor cynical. I am now firmly convinced that shelter is a benign and pleasure-ridden two way street. That the children that I work with have given me much more pleasure and solace than I could have possibly hoped to give them. They could do without me I am sure, but I cling onto them to provide a true meaning to my otherwise mundane existence.
Flashback to 1990 again. My goal was to leverage my experience working for the blind during my stint as a volunteer at the Recording for the Blind. I had also worked with many India based social service organizations prior to starting ASHRAYA. Jayanthi and I wrote to many Schools for the Blind in India to find out about their needs for text books and books of a general/educational nature. Almost all the schools we wrote to expressed a real need for such books and also an inability to produce them on their own due to the lack of funds. We hence started the process of getting books from India based on the needs expressed by the schools; recording them in the US with the help of our friends in the Indian community; and duplicating them and sending them to the schools in India. The entire organization was run on private donations (for buying cassettes and duplicating the same). We incorporated ASHRAYA in the state of New Jersey in 1991, and obtained tax-exempt status from IRS in the same year. In just two years, we recorded 120 books in English, 15 books in Hindi, 20 books in Tamil Nadu and 100 books in Kannada. We duplicated copies of these books and sent to four schools in Karnataka, one school in Tamil Nadu and one in Uttar Pradesh. Oh those days! When I came home every day from work and pretended to be a busy recording artist. Who would not love to listen to their own voices tell me? I sometimes kid that I have done more recordings than a Sonu Nigam or a Mohammed Rafi. Through this endeavor, I relearnt my mother tongue Kannada. And after all recordings were done for a batch of work, my wife and I would rent a heavy duty duplicating machine and convert these tapes into 5 to 6 duplicates each to be delivered to schools. I can never forget that angry look on Jayanthi's face, as she lay on the carpet engulfed by a sea of cassettes in our meager one bed room apartment.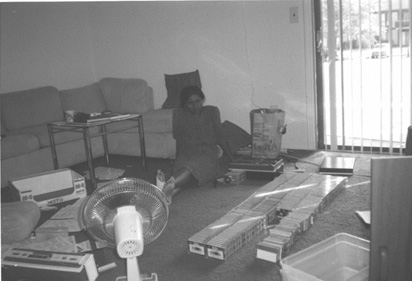 Even though ASHRAYA was achieving its initial goals of providing Talking Books to the Schools for the Blind in India, the entire process of procuring the books from India, recording the books here, and shipping them back was tedious and not scalable. We hence decided that a recording center based in India would enable better contact with the schools and help us cater to their needs on a continuous basis. This would also be conducive to a centralized establishment, rather than a loose network of volunteers that we had here, and suited our goals of making India as self-reliant as possible in the long run. We hence decided to work towards setting up a recording center in India. After evaluating many options regarding the actual set-up of the recording center, we finally decided to team with an organization by name MITRA JYOTHI, which is based in Bangalore, India. It was headed by a dynamic young blind lady, Ms. Madhu Singhal. We started the recording center Gnana Vahini (GVRC) in 1994. The organizational charter for GVRC was prepared jointly by ASHRAYA and MITRA JYOTHI. This charter delineated the goals of GVRC, respective responsibilities and control authorities of ASHRAYA and MITRA JYOTHI, an estimate of the set-up and running budgets, definition of day to day workings etc. I am proud to say that GVRC is a fully functional entity to this day (after 17 years since establishment) even though we are no longer involved in its operations.